Welcome to our resources for teachers! Here, we have included various materials designed to help you use the ECDA in your classroom. On the right you will find links to course syllabi, in-class activities, and assignments. We will update our classroom materials as we continue to collaborate with instructors, so please check back regularly for new teaching resources. If you would like to contribute your own teaching materials, please follow the "contribute" link below.
Build an Exhibit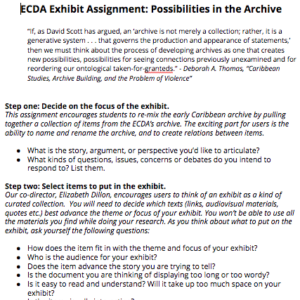 This assignment includes a step-by-step guide for creating exhibits with the ECDA beginning with choosing an exhibit theme, selecting items for the exhibit, creating exhibit subsections, and populating the exhibit template. Students are encouraged to think of their exhibits as "curated collections" that both advance a story and are visually appealing. Included are instructions about how to use WordPress to create exhibits. After creating their exhibits, students then write a reflective essay about their work on the exhibit.
Scholarly Introduction

This assignment allows students to provide scholarly introductions for the archival items in the ECDA. Students situate the archival item for readers by discussing the history of the text's production and reception, providing an overview of critical scholarship related to the item, and suggesting avenues for further research. Scholarly introductions are concise and brief, usually 300-500 words. The assignment also asks students to complete a separate essay in which they reflect on their research process and analyze their findings. Also included are suggested research tools to assist students in gathering information about their texts.
TEI as Close Reading

This assignment was developed by Elizabeth Hopwood, a former project manager of the ECDA who earned her PhD from Northeastern in 2016. Using XML (extensible markup language) and TEI (text encoding initiative), students markup portions of early Caribbean texts. Students highlight formal elements, such as paragraphs and word emphasis, and content such as person and place names. In doing so, students are asked to think about how best to describe the text as well as what the markup process might reveal about the text that simply reading would not. Students also complete a reflective essay at the end of the assignment. Familiarity with TEI is necessary for the assignment and technical workshops are encouraged to familiarize students before beginning the project.