Obeah: "Magical Art of Resistance"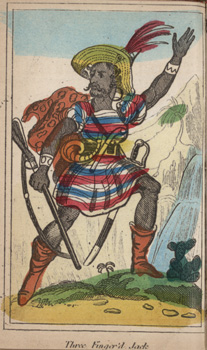 Introduction:
This exhibit explores obeah as a "magical art of resistance" in the early Caribbean—beginning with a look at multi-layered definitions of obeah, followed by a view of how it was used by enslaved (and free) blacks in the Caribbean, and its global roots. The goal of this exhibit is to examine obeah as a practice/culture/religion from the perspective of Indigenous and black Caribbeans, rather than from the point of view of European colonists who were quick to demonize the practice of obeah without fully understanding what it meant to its believers and practitioners. For instance, in the obeah and law section of the exhibit (see menu at right), we look at the ways in which colonists enacted laws against the practice of obeah, despite not being able to define exactly what obeah was, nor having means to control its practice. 
While obeah is still practiced today on many islands throughout the Caribbean, particularly in Jamaica, this exhibit focuses on history and primary texts from the pre-1900 period and turns to current scholarship to offer a fuller background of the practice during this era. Contemporary scholarship includes work by ECDA team members Nicole Aljoe and Elizabeth Maddock Dillon, as well as scholarship by Margarite Fernández Olmos, Randy M. Browne, and Diana Paton, whose important book The Cultural Politics of Obeah is reviewed as part of the exhibit. We also treat a small selection of primary texts, all available in our archive, including works by authors Richard Ligon, William Earl Jr., Henry Hesketh Bell, and Eden Phillpotts. 
This exhibit also foregrounds politics of gender and age in relation to obeah. Because of the nature and inclusivity of its practice, obeah was a mode of empowerment and social mobility for blacks, both free and enslaved, of a variety of different genders, marital statuses, and age groups. The history of obeah is often primarily oral and, as this exhibit shows, is also one that shifts to fit the circumstances of its people across time, location, and colonial situation. This exhibit is far from comprehensive; please check out the bibliography section to get a broader understanding of obi by way of some ECDA-recommended scholarship and consider the additional texts in the obeah collection in our archive.